AKRSP-India team has worked closely with rural communities during the COVID19 pandemic. Panchayat, community leaders, village volunteers have taken lead to ensure that rural communities are well informed. Safety, security and livelihoods of rural community have been our priority.
Our efforts continue to many more vulnerable families in our program geographies.
3,00,000 +
Households Covered Under Different Awareness Campaigns
1,20,000 +
Soaps And Hygiene Kits Distributed
21,700 +
Vulnerable Households Have Been Supported With Food/Ration Kits
69,000 +
People Provided Labor Work Either Through MGNREGA Or By AKRSP(I)
1,33,000 +
Facemask Prepared And Distributed By 540+ SHG Women
50,000 +
Farmers Provided With Input Supply Such As Seeds For The Next Cropping Season
Major Highlights of Work done as a response to COVID19 pandemic
Continuous awareness generation among rural communities to bring about behavioural change and control the spread of COVID-19 disease in rural areas
Grocery/food kits and sanitation kits (soaps, masks, sanitizers, sanitary napkins and other essentials) have been supplied in various locations to vulnerable households directly and through Village Institutions, Gram Panchayats and Community Based organizations
Enterprises promoted/supported by AKRSPI are engaged in producing masks meeting immediate need of the community and generating income for themselves
Support has been extended to farmers to market their Rabi/ Zaid produce and for preparation for Kharif season; ensuring the benefit of Government schemes to farmers
Poultry and dairy farmers are being assisted with marketing support, input supply, veterinary services and awareness of Government schemes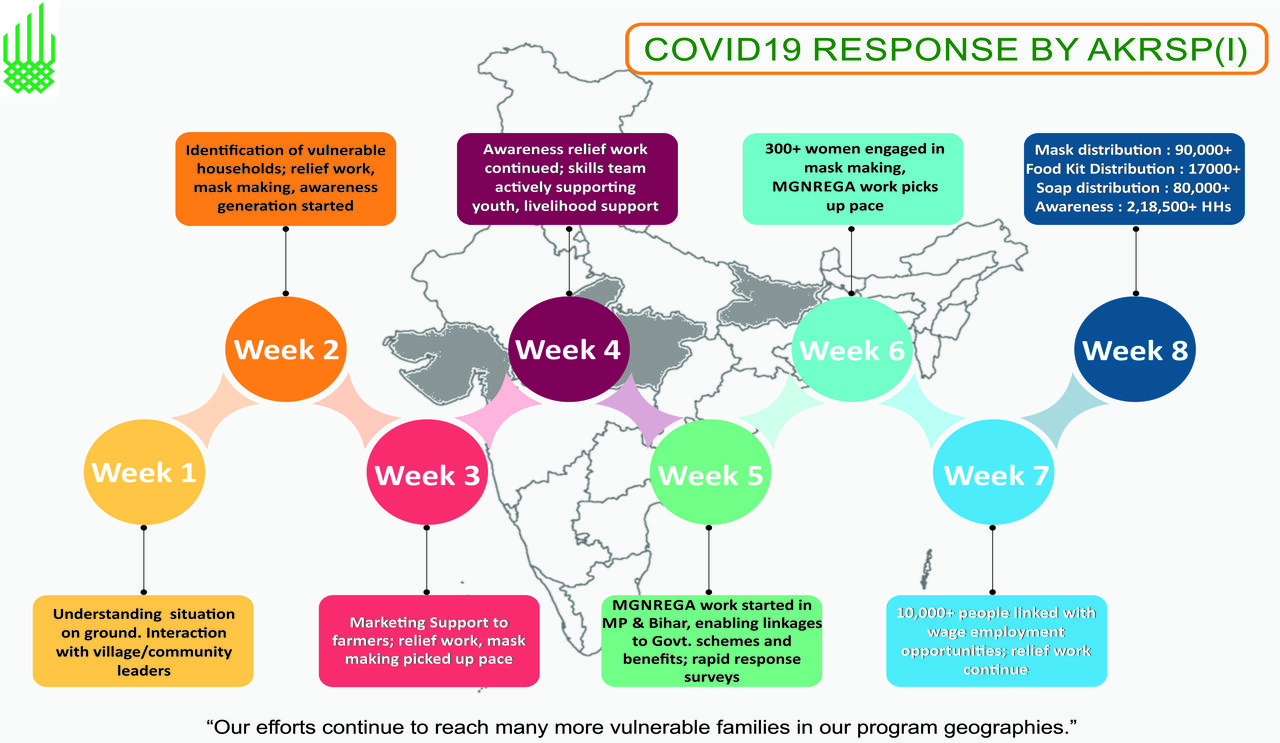 AKRSP (I) team along with PRIs and CBOs is working actively towards listing and screening of migrants and providing necessary support at isolation/quarantine centres
Providing labor work to poor, migrant and landless families (linkage with MGNREGA and directly through projects)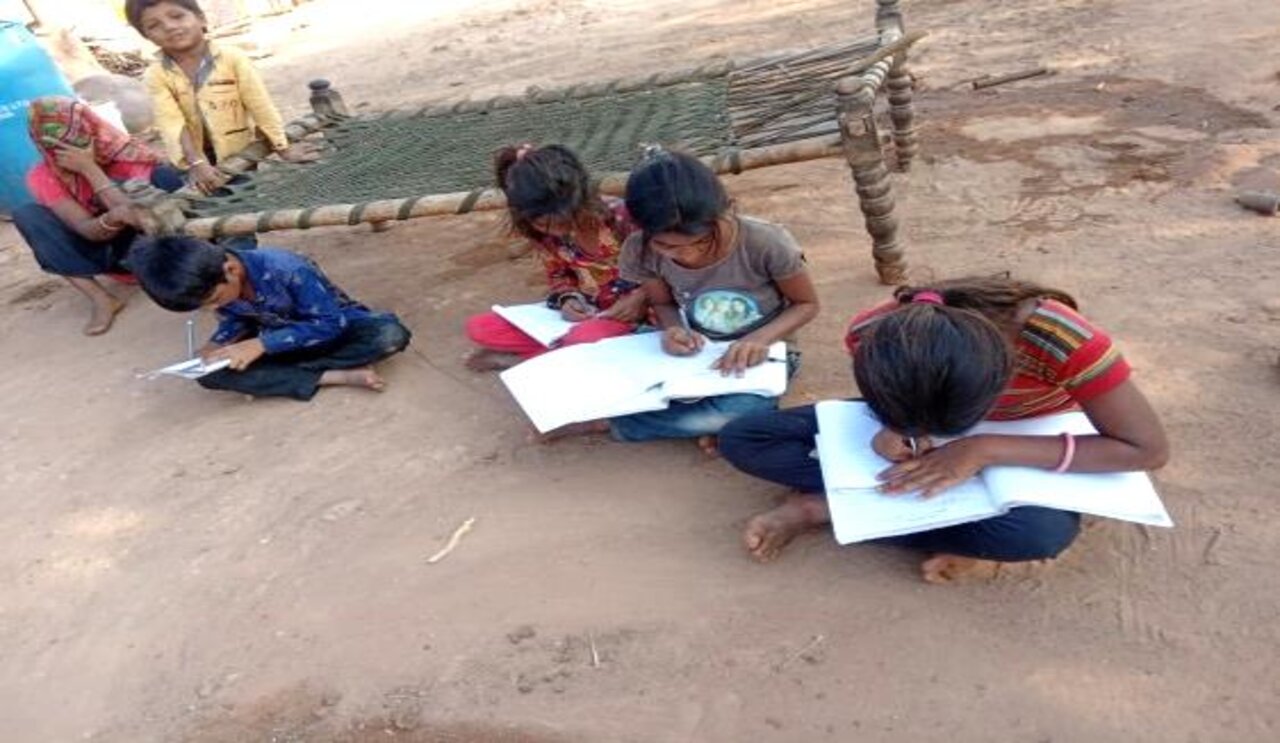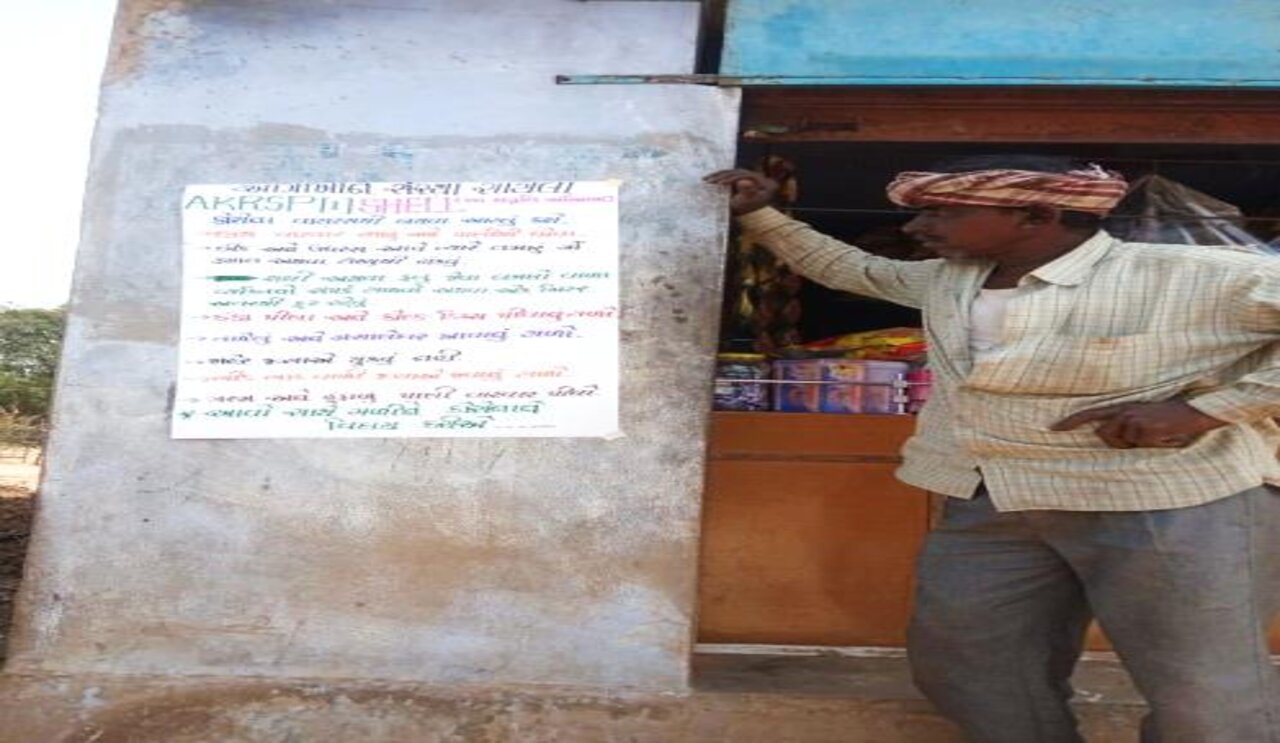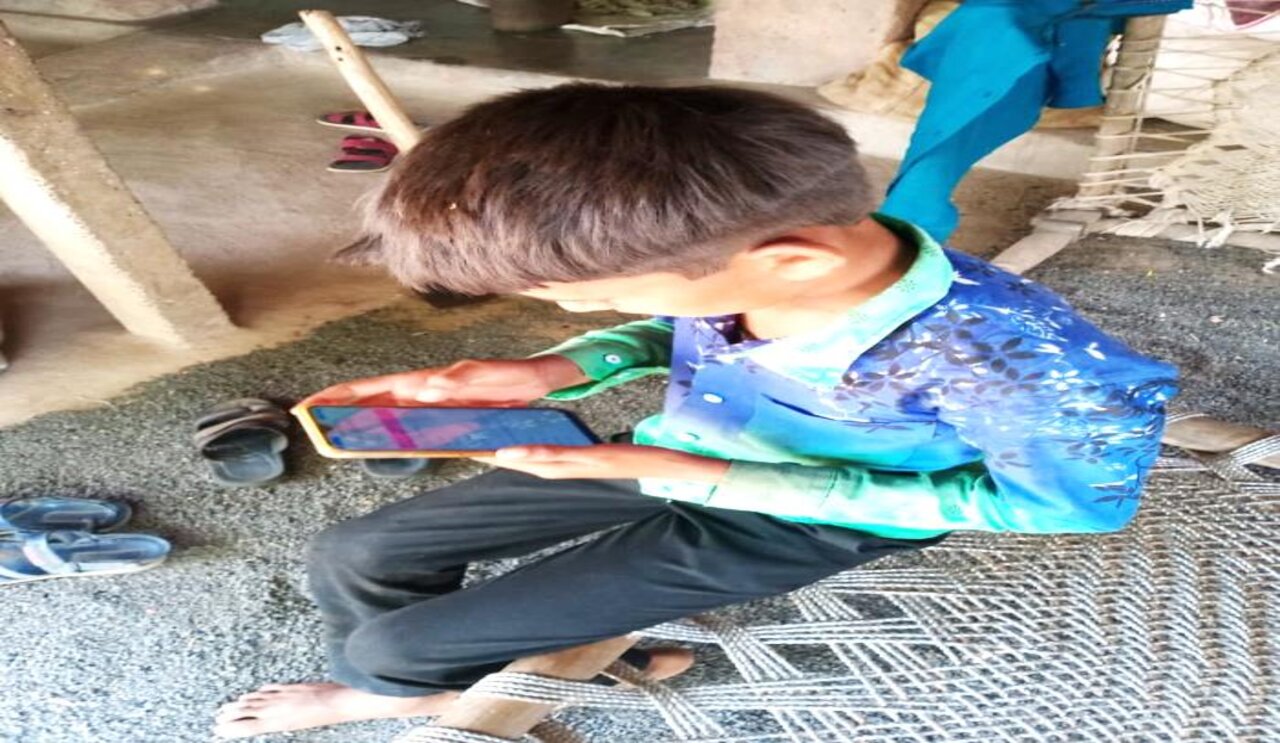 For The Love of Education
Hakabhai, a Balmitra the library of Ganganagar village, Sayla block of Gujarat didn't let the Pandemic stop the learning of children. He arranged meetings with school teachers, gathered mobile numbers of parents and created a class-wise WhatsApp group for parents of school going children of class 6, 7 and 8 and began circulating educational materials on the group. With the support of the teachers he started circulating the weekly online curriculum of the Sarva Sikhsha Abhiyan on that WhatsApp group. Online education is a new concept for everyone and he took initiative to explain the parents and oriented them on its usage. For those who did not have access to smartphones, he promoted group studies following physical distancing by providing printed materials for everyone to participate. He went an extra mile to provide books from the library for those children who loved reading. He understands the power of education and how it could nurture the younger generations of his interior village with no access to outside world where majority of the residents are small or marginal farmers. Being differently abled himself, with limited mobility, it does not stop him from providing education access to the children of his village. Having attained only secondary education, he is an inspiration for his village by becoming a 'mobile library' in this much needed time.
AKRSP-India develops youth skills to help rural communities respond to COVID-19
Few Months back, 20-year-old Karishma completed a course at Yuva Junction, where she learned sewing skills to make women's clothes. Now, she's sewing face masks for vulnerable families in her rural community in northern Bihar, India.
By making the masks, Karishma is earning enough money to support her parents and three siblings during the pandemic. Her father is unable to work because of movement restrictions caused by COVID-19 and weather damage to crops, but Karishma's new skill allows her family to buy essential supplies.
She makes 70 to 80 masks a day and also helping other women in her community learn mask making to meet high demand for the low-cost masks.
More than 540 young girls and SHG women are provided training on mask making. Collectively they have produced and distributed more than 90,000 masks so far. The income generated by them through mask making is helping them to support their family during this difficult time.